Oliver Richman Releases Debut 4 Track EP; New Video Launch Set For January 2012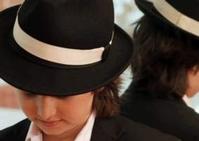 The title of Oliver Richman's debut video on YouTube has proven prophetic -- the 11-year-old vocal phenom continues to "defy gravity!"
Fresh off his show-stopping week of performances as "Young Frank Sinatra" in the weeklong run of "Sandy Hackett's Rat Pack Show" (www.sandysratpackontour.com) during its national tour stop at the Fred Kavli Theatre in Thousand Oaks, Calif., the young vocal powerhouse is releasing his highly anticipated debut EP -- naturally called Defying Gravity.
Richman (www.oliverrichman.com) is also returning to Fox 5's MORE Show (KVVU-TV) in Las Vegas on November 11, 2011 to perform music from the new EP, which is now available on iTunes, Amazon, and many other online retailers. The success of Richman's videos for "Defying Gravity" (from the musical Wicked) and the Steve Miller Band's 1982 hit "Abracadabra" inspired the eclectic four-track set, which showcases his unique versatility and ability to sing everything from show tunes and Great American Songbook classics to renowned pop songs and originals.
In addition to "Defying Gravity" and "Abracadabra," the EP includes a stirring rendition of the Gershwin standard "Someone To Watch Over Me" (the song Richman sings in "Sandy Hackett's Rat Pack Show") and "I Can See," an original song penned by the singer's late grandfather, legendary Motown songwriter Ron Miller ("For Once In My Life").
Richman's inspiring video for "Defying Gravity" has garnered impressive 64,000-plus views on YouTube. A video for "I Can See" is set for release in January 2012.
In addition to his videos, recordings and live performances, Richman sang last holiday season with Stevie Wonder at the 15th Annual House Full of Toys Benefit Concert, held at the Nokia Theatre in Los Angeles. Invited by Wonder himself, Richman received a standing ovation for his performance from an audience of over 7,500 people. He has also been featured on Byron Allen Entertainment Studios' "The Young Icons," a nationally syndicated show about young people changing the world.